Vegan Cream of Broccoli Soup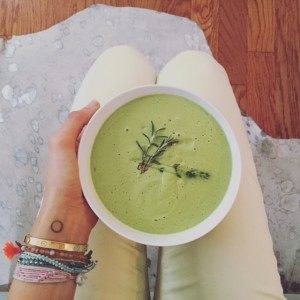 Equipment
Ingredients
2 cups room temperature water
2 handfuls of raw cashews
½ shallot
2 cups raw broccoli
½ stick of celery
¼ zucchini
1 sprig rosemary
1 sprig thyme
1 vegetarian stock cube
1 clove garlic
salt and pepper to taste
Directions
Add all the ingredients to the Vitamix container and secure the lid.
Select Variable 1. Turn on the machine, quickly increase to variable 10 and switch it to High.
Use the tamper to press the ingredients into the blade if needed.
Blend for 3-6 minutes until desired temperature is reached.
Stop the machine and serve.
Notes
If using hot water, run for only 1-2 minutes.