Zucchini Noodles With Macadamia Nut Basil Pesto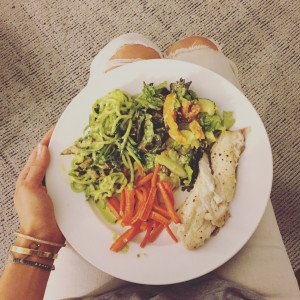 Pasta is so passe. It's definitely delicious, but who needs to commit carbicide every day? Not me. Zucchini noodles are an excellent substitute for pasta especially if you mix in the right sauce. Pesto is always a pleaser, so get to spiralizing!
Equipment
Ingredients
     

6 zucchini

     

½ cup extra virgin olive oil

     

1 tbsp fresh lemon juice

     

4 cloves garlic

     

2 cups fresh basil

     

⅓ cup raw macadamia nuts

     

2 tbsp pine nuts or unshelled sunflower seeds

     

⅓ cup nutritional yeast

     

½ tsp sea salt

     

a few shakes of black pepper

     

1 cup shiitake mushrooms

     

coconut oil
Directions
     

Cut the off the ends of the zucchini and then cut them in half. Place in the spiralizer to make the noodles and place to the side.

     

Mix the rest of the ingredients in the food processor. Set sauce aside.  

     

Cut shiitake mushrooms into thin pieces and throw in a pan with coconut oil, salt and pepper until caramelized.

     

Mix noodles with sauce and toss the shiitake mushrooms in for added flavor.

     

Serve and enjoy!