Free Range Turkey Burger on Grain Free Cauliflower Bun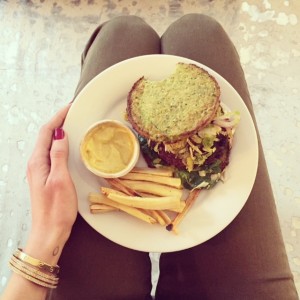 Burger or bust! All the flavor without the guilt. Paleo, gluten free, and grain free this is one piece of meat that you don't want to miss out on. Parsnip fries on the side to pack an extra punch. Nom nom nom!
Grain Free Cauliflower Bun
Equipment
1 backing sheet

parchment paper
Ingredients
1 medium head of cauliflower

4 tbs almond flour

1 tbs tapioca flour

2 organic eggs

½ tsp garlic powder

¼ tsp Himalayan sea salt
Directions
Preheat oven to 400 degrees.

Chop the cauliflower up into medium sized pieces and place them in the food processor. Pulse until it becomes a rice consistency.

Place the rest of the ingredients in a bowl with the cauliflower and mix well until you get a dough consistency. If dough is too runny or sticky, add a little more almond flour.

Set parchment paper on the baking sheet and sprinkle it with tapioca flour, so that the crust doesn't stick to the parchment paper.

Make 5 evenly sized balls and place them on the parchment paper. Press down slightly.

Bake for 30-40 minutes or until buns look golden brown.

Let cool. For extra crisp, slice in half and place under the broiler (sliced side up) for 3-5 minutes.

Remove and serve!
Free Range Turkey Burger Patty
Ingredients
1 lb organic ground turkey

2 cloves garlic, pressed

2 green onions, chopped fine

1 tbs cilantro, chopped fine

1 lime, juiced

1 tsp sea salt

½ tsp black pepper

1 – 2 tbs olive oil
Directions
Mix the turkey, garlic, green onions, cilantro, and lime to a large bowl.

Shape the turkey mixture into 5 equal sized balls for burgers.

Press the balls to shape into burgers. They should be around ½ an inch thick at least.

Sprinkle with salt and pepper on both sides.

Heat a pan on medium high heat and add olive oil or coconut oil. Place the burgers into the pan.

Cook for about 4 – 6 mins on each side until the burgers are cooked through.

Remove and place burger onto Cauliflower Bun.