Paleo Vegan Cauliflower Crust Pizza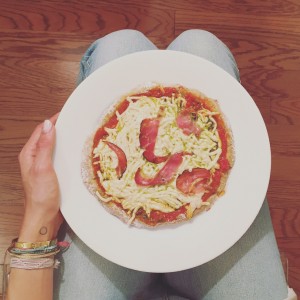 Who needs the unnecessary carbs and bad fat in comfort food? I sure don't! That's why my vegan paleo cauliflower crust pizza crushes its junk food competition. You get to experience all the taste without the torment. What's not to love? Give it a whirl.
Equipment
1 backing sheet
parchment paper
Ingredients
Directions
Chop the cauliflower up into medium sized pieces and place them in the food processor.
Remove cauliflower from the food processor and place in a large pot. Cook until lightly browned.
Let the cauliflower cool for a few minutes before handling.
When cooled, put the cauliflower in a nut milk bag to squeeze all the excess water out. When you think you're done squeezing, squeeze some more; you want to get as much water out as possible.
Place the rest of the ingredients in a bowl with the cauliflower and mix well until you get a dough consistency. If dough is too runny or sticky, add a little more tapioca and almond flour.
Preheat oven to 450 degrees.
Set parchment paper on the baking sheet and sprinkle it with tapioca flour, so that the crust doesn't stick to the parchment paper.
Just like you would with regular pizza dough – knead the dough into small to medium size pizzas and place into oven.
Bake for 20-30 minutes or until crust looks golden brown.
Take the crust out and add your toppings of choice. I like to spread on the marinara sauce first followed by the pesto. I then sprinkle daiya vegan cheese all over and top it off with strips of prosciutto.
Put the pizzas back into the oven under the broiler on high and let it cook for another 30 sec – 1 min or until cheese is melted.
Remove and serve!