Paleo Pecan Pie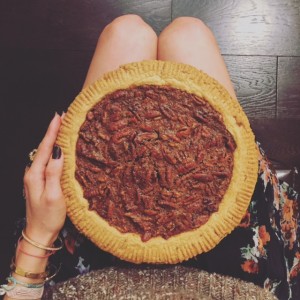 A guaranteed crowd pleaser at any Holiday table!
Equipment
Ingredients
Crust:
¾ cup tapioca starch
¾ cup almond flour
2 tbs coconut sugar
½ tsp sea salt
½ cup coconut oil
5-6 tbs filtered water
Filling:
3 eggs, organic/free range
½ cup raw honey
¾ cup coconut sugar
2 tbs coconut oil
1 tbs pumpkin seed oil
pinch of sea salt
2 cups pecan halves
Directions
Preheat oven to 350ºF
Stir together all dry crust ingredients. Add coconut oil using a pastry blender. Add water, 1 tablespoon at a time until it forms into a ball.
Roll out the dough on a gluten free floured surface (I like to use tapioca flour). Place the rolled out dough in pie pan and gently use a fork to create a nice crust pattern around the edges. Place pie pan in the refrigerator.
Stir together all of the sauce ingredients with a spoon.
Remove the pie shell from refrigerator and pour the sauce into it.
For safety, place a large cookie sheet under the pan as it cooks, in case of spill over. Bake for 25-30 minutes. The pie needs to be cooled and refrigerated 2 hours prior to serving, so that it is able to thicken.
Store in the refrigerator.