Hideyo Yamada's Vegan & Gluten Free White Chocolate Pistachio Pomegranate Bark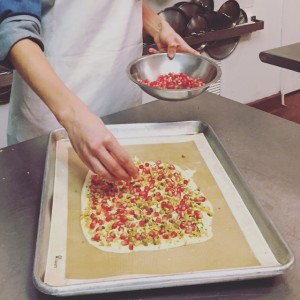 For vegans and all of the other dairy free divas out there, finding an acceptable commercial white chocolate just doesn't happen very often. Problem solved!
This recipe can be made as a plain white chocolate or you can get creative and add in something a little extra. Here we've added pistachios for a little crunch and some pomegranate for refreshing bites of tart flavor.
It's a potpourri of perfection waiting to melt in your mouth!
Equipment
Ingredients
1 ½ cup raw cocoa butter, grated of finely chopped
¾ cup refined coconut oil
½ cup coconut sugar
2 tsp vanilla extract
Directions
In a double boiler, melt the cacao butter over medium-low heat. Make sure to stir frequently.
Mix in the coconut oil until both oils are uniform in texture. Add in the coconut sugar and vanilla and use a whisk to help the sugar dissolve.
Once you have your vegan white chocolate mix, add in pistachios and Mix using a spatula.
Thinly spread the white chocolate mixture on a parchment paper. Cool until solidified. Cut into pieces.