My Top 5 Fridge Favorites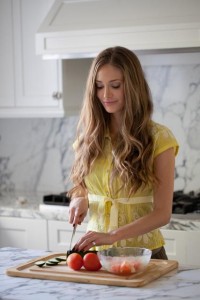 Recently Bustle asked me to share the top 5 foods I keep in my fridge. I live alone in NYC, so to be completely transparent there isn't a lot of food in my fridge on a regular basis. However there are a few staples that I consider medicinal foods, which I have on hand at all times. After all supplements are great, but good quality nutrition is truly the ultimate healing tool.
Bone Broth: This magical healing liquid heals leaky gut, improves joint health, helps with overcoming allergies, aids in reducing cellulite, and plumps up aging skin with it's mineral rich healthy fat. Not to mention its makes your hair and nails grow like weeds! I have at least 16 oz of either chicken or beef bone broth once a day. It's great first thing in the morning, post workout, or during that afternoon crash. Indie Fresh makes a tasty one!
Homemade Beet Kvass: I'm big on traditional foods. I think modern day culture has strayed too far from the basics with the processing of food and we never really know what's in most supplements. Beets are a highly nutrient dense food and when they undergo the lacto-fermentation process they provide one of nature's best probiotics. Lacto-fermentation boosts the vitamin and enzyme content resulting in Beet Kvass. It also aids in digestion, cleanses the liver, and alkalizes your blood. It's easy to make to boot!
Organic Raw Almond Butter: I usually make some sort of shake in the morning and almond butter provides me with the healthy fat I need to last me thru to lunchtime. The fat also helps to prevent any fruit or veggies I add in my shake from spiking my blood sugar. It's key to keep your insulin levels even throughout the day, especially if one is looking to lose weight or stay in shape.
Veggie crudité: I always have raw organic celery, carrots, cucumber, zucchini, cherry tomatoes, etc. to snack on between meals as I like to eat small meals frequently throughout the day. I find that it works best for my body. I usually dip the crudité in almond butter, guacamole, or some olive oil with sea salt and balsamic vinegar.
Grass Fed Calves liver pate: It's rich in folic acid and vitamin A, which is especially beneficial for women. Being a woman that has struggled with hormonal issues, I find liver pate one of the easiest ways to consume the vitamins I need to boost fertility and balance my hormones. I like to spread it on sliced cucumber or celery and it pairs well with any quality grain-free paleo bread.